GBP/USD Memberi Isyarat Menguat
Pada minggu lalu GBP telah membentuk support pada harga 1.2600 terhadap dolar. GBP/USD akan memulai menguat setelah bisa menembus area resistance 1.2700 akan tetapi gagal tidak bisa menembus.
Analisa Teknikal GBPUSD
Pada timeframe H4, GBP/USD telah mendapatkan momentum bullish pada area harga 1.2600 dan 1.2650, bahkan sempat ada penembusan pada area resistance baru yaitu 1.2675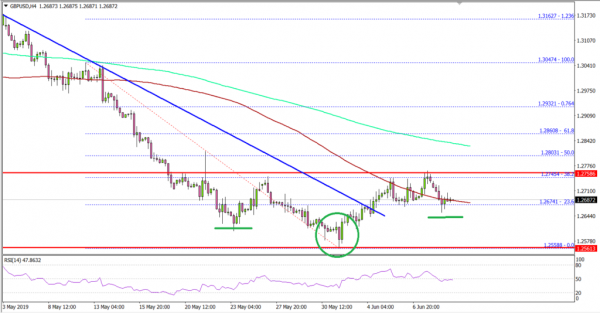 Rangkuman Penting
Poundsterling telah membuat support pada harga 1.12560 dan mulai naik terhadap dolar.
GBPUSD menembus garis trendline bearish di H4 pada harga 1.2675.+
Berita Produksi Industri Inggris pada bulan April 2019 turun 2,7%, sedangkan perkiraannya adalah + 0,1%.
Berita The UK Claimant Count pada Mei 2019 dapat berubah 22,9 ribu, kurang dari 24,7 ribu terakhir.
Analisa Fundamental GBPUSD
Berita laporan " UK Industrial Production " dirilis oleh National Statistics, market membutuhkan kenaikan sebesar 0.1% dibandingkan dengan bulan sebelumnya.
Akan tetapi hasilnya mengecewakan, hasil rilis berita tersebut mengalami penurunan sebesar 2.7% dan juga berita The Manufacturing Production turun seebsar 3.9%.
Berita Ekonomi Yang Akan Rilis
UK Claimant Count Change May 2019 – Perkiraan 22.9K, dibandingkan 24.7K sebelumnya.
UK ILO Unemployment Rate May 2019 (3M) – Perkiraan 3.9%, dibandingkan 3.8% sebelumnya.
US Producer Price Index May 2019 (MoM) – Perkiraan +0.2%, dibandingkan +0.2% sebelumny .
US Producer Price Index May 2019 (YoY) – Perkiraan +2.0%, dibandingkan +2.2% sebelumnya.